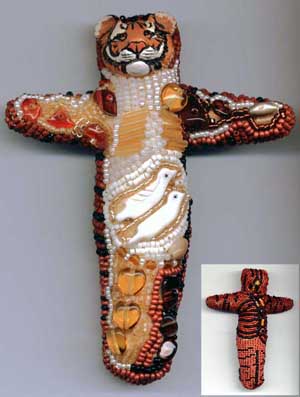 Seed Bead Information:
Your Smart Guide to Seed Beads
Here is the seed bead information you need. To outsiders, all the little beads look pretty much alike. Insiders know that there are crucial differences between types of seed beads. And the type of beads that worked so well in your last project may not be the best for your next.
We'll sort through the differences and talk about how and where each type can be useful. This can both help you make good choices for your next project, but also to think of what sorts of projects would be good places to use up some of your stash.
Do As I Say, Not As I Did. . . .
Like many beginning seed beaders, I decided to make a little peyote stitch pouch.
I found a design of a crescent moon and some stars in one of Sigrid Wynne-Evans books. My design only had two colors and I found the blue and yellow beads at my local craft store.
I had a terrible time making this! The beads would not cooperate. They were all different sizes and shapes and a lot of them were kinda lopsided. Needless to say, they did not produce the nice even effect I had dreamed of, but wandered all over the place. After I finished that piece, I swore off of peyote stitch for quite a while.
Use the Right Beads!
But it wasn't really the stitch's fault. It was the beads. Cheap, uneven beads. Beads unsuited to the work I was doing. If I had known enough to sort though the beads to find more regularly shaped ones, I might have done better, but it would have been a lot like looking for needles in haystacks.
The next time I tried peyote stitch, it was with nicely even delica beads. It was actually easy to put them together.
I was starting to catch on to one of the real secrets for getting good results: choose the right beads for your project.Or if you are starting with the beads you have on hand, choose the right project for your beads. I was beginning to grasp how little seed bead information I really had, and how much there was to learn.

Czech, Taiwanese, and Japanese Size 8 Seed Beads
Czech Seed Bead Information
Czech seed beads are shaped like tiny donuts or bagels: a lot wider than they are tall, nicely rounded edges, and with holes that are fairly small in relation to the diameter of the beads. Czech beads usually come as a hank, commonly 12 looped strands of beads, tied together at the ends. The length of the strands and the number of strands in a hank will vary with the particular type of bead. Czech beads are beautiful in bead embroidery and in loomwork for those patient enough to cull them for uniform size and shape.
Japanese Seed Bead Information
Japanese Seed Beads have a different shape than the Czech seed beads. If you plop a size 11 Japanese bead and a size 11 Czech bead side by side on the table, you will see that the Japanese bead is taller and has a much bigger hole in relation to its diameter. While I find this shape less sexy in bead art applications, this is balanced by the fact that the Japanese beads come in a much larger selection of colors.
Chinese and Indian Seed Bead Information
The seed beads from China and India are less uniform than those from Japan or Czechoslovakia. That uneven quality makes them incredibly difficult to work with in loom work or regular peyote or brick stitch. They work fine in multi-strand strung necklaces, where their uneven quality gives some nice texture to the work. They are also fine in spiral ropes, where even and smooth textures can be a bit boring. Mostly, I save these for kids' projects, but I have used them at times in free-form brick stitch, and in spiral ropes.
Delica and Other Cylinder Seed Bead Information
Japanese cylinder beads weave together into a surface almost like mosaic tile work. They are quite uniform in diameter, with holes that are very large in relation to their diameter. They are well suited to flat peyote, loomwork, or anywhere you want that smooth surface. It can be confusing to hear the different brand names for this style of beads. We'll try to help clear up some of the confusion and maybe tell you something you didn't already know. . . .
Buying Smart
Bead Weights: How Many Beads Are in the Package? If you are working from a pattern that tells you you need 312 red delicas and 1252 black ones, how do you know what size package you need? Knowing about bead weights helps you decide how many packages of beads to buy. Here you'll find the seed bead inforamtion on the number of beads per gram for the main types of seed beads, including delicas.
Seed Bead Storage
Bead Storage Containers and Systems. This is a Wish List for the perfect storage solution. Find out if I have thought of the aspects that are most important to you! In reality, if you have a lot of beads, it is unlikely that any one systems will satisfy all of these criteria, but you get to decide which factors are most important. This article may help.

Bead Storage: My Own System. If you would like to see how I organize and store my own beads, take a peek at this article with photos of my set-up.