Delica Beads & Other Cylinder Beads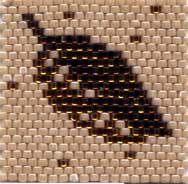 Delica beads are manufactured by Miyuki Company of Japan and are the best-known bead of their type. The size 11 Delica is the one most commonly seen and the one that comes in a gazillion colors (well close to 800 anyway) but Miyuki also makes Delicas in the somewhat larger sizes 10 and size 8. They have also introduced size 15 delicas, which come in about 100 colors.
The delica beads were developed, as far as I can tell, for the Japanese hobbyists who want to weave detailed pictures and can really benefit from the even sizing and range of colors and finishes. There are a number of books, published in Japanese, with cool patterns and pictorial instructions for using these beads as the Japanese do. You don't have to know Japanese to use these books as the pictures are quite clear in their meaning.
For beaders everywhere, these have to be the easiest beads to use for on-loom or off-loom bead-weaving. They are quite uniform, so with only a small amount of culling out the beads that are too short or cut at an angle, you have nice rectangular shapes to fit together. Because the holes are large, you can continue to pass your threaded needle through them many times.
Treasure Beads
Treasure Beads, formerly called Antiques, are manufactured by the Toho Company. They are available in about 250 colors/finishes and are compatible with delicas if you want to mix and match. They come in both size 11/0 and size 8/0.
Aiko Beads
Aiko beads are also made by Toho, and are the premium bead of this type. They are manufactured to even more rigorous standards than the other cylinder beads, and you can expect every bead to be usable. They come in more than 1000 colors and finishes. Aiko beads are the same size as the delica beads and treasure beads, so you can sneak a few of the "lesser" beads into your work if you need to.
They are said to be named for the wife of the owner of the company, and her husband must think of her as the perfect woman to have made such perfect beads in her name.
Mill Hill Magnifica Beads
Mill Hill's entry into this class is their Magnifica bead. Mill hill is a division of Wichelt Imports in Stoddard, Wisconsin, and I haven't yet figured out where these beads are actually manufactured. They are typically sold in needlework shops, in extremely tiny blister packs. They are clearly aimed at the needlework fan who wants to accent some needlework with a few beads. Their website includes a chart to covert DMC floss colors to their bead colors.
Dichroic Cylinder Beads
If you love dichroic glass, you are going to go nuts for these: Jamie Kawahara in Pleasanton, California, coats size 11 Toho Aiko beads with dichroic glass. These produce an amazing sparkle and are best used in small quantities. This is a good thing, because they are not cheap. On the Dichroic Beads by Kawahara website you can purchase the beads in several colors for $7.99 plus shipping per gram (about 180 beads).
Price Comparison on Different Types of Cylinder Beads
I have done my best to come up with some prices that are representative of the various sorts of beads. Whenever possible, I used size 11/0 plain black opaque beads to compare prices per gram, but obviously that no longer worked when I got to the dichroic beads! Except for the dichroic beads, these are based on retail type packages of 5 to 7.5 grams. The dichroics are sold by the single gram.
Toho Treasures $ .22 to $ .29 per gram
Miyuki Delica Beads $ .21 to $ .33 per gram
Toho Aikos $ .69 to $ .99 per gram
Mill Hill Magnificas $1.11 per gram
Dichroic by Kawahara $6.75 to $7.99 per gram
Of course, prices will vary from vendor to vendor and will often vary with the amount you are buying. Some bead colors and finishes will cost a lot more than this, so this is only meant to compare price across the various types/manufacturers. Your mileage will undoubtedly vary. . . .

Return from Delica Beads Etc to Seed Bead Info Page

SeedBeadSmarts Home