Entering a Beading Contest or Bead Challenge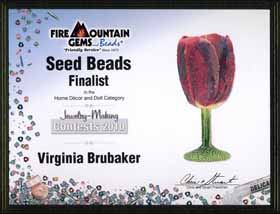 You may have thought about entering a beading contest or a bead challenge. If you haven't taken the plunge yet, I hope I can encourage you to give it a try.
You can find contests in online groups, at local bead stores and bead societies, or read the listings under "call for Entries" in beading publications.
At the bottom of this page you will see some major contests you might want to consider entering, and also more articles about beading contests and challenges.

Juried Contests Versus Popular Vote Contests
Some competitions are judged by bead artists with established reputations. Others are judged by shop owners or company leaders.
For the biggest of beading competitions, such as Bead & Buttons' Bead Dreams, the Dairy Barn's Bead International, or Fire Mountain Gems' Contests, there is usually a two-part judging process. The first part of the process identifies finalists by using photographs of your work. Then you ship your work to them for the final judging and perhaps for photography and/or display at a show.
Other competitions, including lots of online competitions and most bead society contests, make the work available either in person or via photographs and people vote for the winners.
Not surprisingly, these two processes will generally produce different winners. Some competitions combine the two judging methods, with judges picking finalist and the final voting done by popular choice. In addition, many shows that were judged by beading luminaries add a "People's Choice" category to the winners, with show attendees voting for the piece they like best.
Bead Challenges versus Beading Contests
Bead Challenges are usually set up to encourage beaders to try something new, or to think about something in a different way. There may be a specific topic, or some particular requirements that make you get off of your regular pattern of doing more of the same stuff and challenge you to look at your own beading with fresh eyes.
Sometimes there are prizes for a challenge, sometimes not.
The process is rewarding in itself, as you take on the challenge of doing a new piece that meets the requirements. And at the end you get to see how everyone else met the challenge. The unveiling of the finished works is a delightful event, and everyone who participates can be proud of the work that was done.
Some Competitions You Could Consider Entering
---
Beading Contests at Fire Mountain Gems and Beads
Fire Mountain's contests are a great chance to get our work seen by a bazillion beaders, and maybe to win some great gift certificates from Fire Mountain. You can get the Seed Bead Smarts perspective on the contest here.
Bead Dreams
Bead Dreams is the annual contest and exhibition at the Bead&Button Show. Find out more about how it works here.
The Beaded Earth: A Juried Exhibition
Beadwork VII: The Beaded Earth is (not surprisingly) the seventh in a series of tightly focused exhibitions that have been put together by Beadwork magazine. Past shows have toured the country. See how you could be part of the next show.
Bead Star
Bead Star is the name of both a bead competition and the publication that results from the contest each year. Learn more here.
---
More About Bead Challenges and Contests
How to Run a Bead Challenge
How to run your own Bead Challenge is based on my experience running a couple of Bead Challenges for our local bead society. You'll find ideas for challenge themes, publicity, managing entries, counting the votes, and some thoughts on prizes for a challenge.