The Beading Book Shelf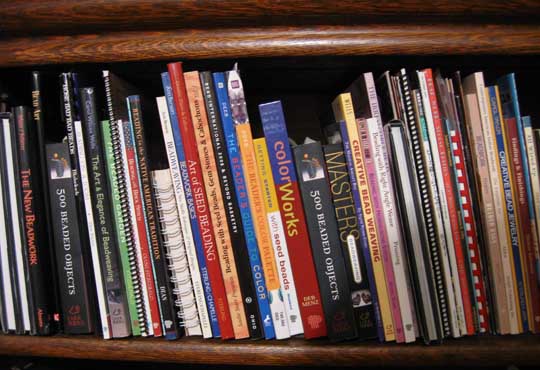 What books belong on your beading book shelf? There are some books that should be on almost everyone's book shelf, and others that you may not need.
I'm going to help you sort it out. These days, a lot of us buy many of our books online, especially people like me who are hours from the nearest bead store, so we don't get to browse through the book in person before we order.
I'll do my best to give you good information about what is in every book I review and I'll give you my own opinion about who may like each book, and who may not. (And if I think the book isn't very interesting to most folks who work with seed beads, I won't waste my time or yours reviewing it.)
Over time, I'll work my way through the favorites on my own bookshelf and also review newer books, plus old favorites recommended by my readers, so if you want to suggest a beading book, go to the "Contact Me" tab and drop me a note.
To hear about new reviews, go ahead and use the box at the bottom of this page to sign up for updates. Then you'll get an email every time there are new pages for you to check out on the website.
---
Books about Color for Beaders
Color Works, the Crafter's Guide to Color
Color Works, the Crafter's Guide to Color by Deb Menz knocked my socks off. I love the clear prose and the wonderful samples in 9 craft media.
The Beader's Guide to Color
The Beader's Guide to Color by Margie Deeb was the first book about color written exclusively for beaders. Here's a rundown on what is between the covers and who will benefit the most from the content.
The Beaders Color Palette
The Beaders Color Palette by Margie Deeb presents over 200 color palettes derived from paintings and other sources in the visual arts, plus 20 beading projects. Here's what you can learn from the book.