The Beaders Color Palette by Margie Deeb
The Beaders Color Palette by Margie Deeb, published by Watson-Guptill Publications, 2008. 192 pages with great color on every page.
A Book Review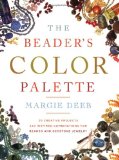 The Beaders Color Palette is Margie Deeb's second book about color for beaders and consists almost entirely of color palettes drawn from paintings and other visual arts, then translated into beads and illustrated by beading projects. She begins the book with a nice introductory section about her process in creating palettes from art. In it, she shows us how she starts with a simple photo, pulling out the main colors. Then she re-examines the image and tweaks her color palette. She then decides what proportion each color should take in the work. Then it's on to the bead stash, to find beads that work, and perhaps to make further adjustments in the color selections. You can take a peek at this section with the Look Inside feature at Amazon.com.
The Beader's Color Palette: 20 Creative Projects and 220 Inspired Combinations for Beaded and Gemstone Jewelry
Color Inspiration and Color Palettes
The main body of The Beaders Color Palette has short chapters on a theme, grouped under larger headings like The Elements or Cultures of the World. Each short chapter half a dozen small reference photos of art, costume, nature, or other examples of the color inspiration for that topic. For each chapter, she gives half a dozen suggested bead palettes that reflect the reference photos. There are larger photos of a couple of pieces of beadwork by Deeb and other bead artists, using color schemes that fit the topic.
Bead Projects
After each large section of color inspiration there are four projects, each nicely illustrated with instructions. They are worked in colors that reflect some of the previous content, and each is accompanied by a reference photo from which the colors have been drawn. Most, of course, could easily be worked in other color combinations either drawn from the palettes that Deeb suggests or from the reader's own inspiration.
About half of the 20 projects in the The Beaders Color Palette use either seed beads or crystal beads, so are easily reproduced at home. The others often wander into specialty beads that connect beautifully with the reference photograph that the author has selected. These specialty beads, however, may be difficult to find. So if you are a beader who likes to be able to exactly reproduce a project you see in print, you may find some of these projects frustrating. However, if you like to use printed projects more as inspiration, you will like what you see. The projects all do a nice job of illustrating Deeb's essential method of drawing color inspiration from other visual sources. Most also take some other inspiration from the source in terms of pattern or matching the subtle color blending or vivid juxtaposition of colors in a way that is coherent with the original source.
Recommendations
I think most beaders will enjoy seeing this book and at least leafing through the pictures at a leisurely pace. Those who are interested in the author's method for creating color palettes may find that a slower study of the book lets them appreciate how Deeb works and begin to find their own color references in art, decor, or simple snapshots, and create their own color combinations for their beadwork.
As I suggested above, the bead projects will greatly please many, but may frustrate some. If your main interest is seed beads, you will find the seed bead projects varied and alluring. They include beadweaving with Deeb's usual choice of loom/square or peyote/brick for each beadweaving project. In addition, there are projects using bead embroidery, fringes, and stringing. Beadweaving techniques are also used in non-seed-bead projects like the radiant sun earrings, made with fire-polished faceted glass beads.
Beginners will find some of the projects simple, and others daunting. In the daunting category is a lovely rose brooch with petals made of freeform peyote which you are instructed to "make up as you go" with only general guidelines on the creation of the petals. Experienced beadweavers will be fine with this amount of instruction, and the petals have a much more natural feel than beaded petals made to a strict pattern, so the results will justify the effort!
There are a gazillion color ideas and inspirations in The Beaders Color Palette. You could have some serious fun with it, whether you just use it to get your own juices flowing or use the specific palettes or projects included in the book. This book is definitely worth a look. If you want to read other reviews of the book, you can follow this link to Amazon's listing of the book: The Beader's Color Palette: 20 Creative Projects and 220 Inspired Combinations for Beaded and Gemstone Jewelry
Return to The Beading Book Shelf

From Beaders Color Palette to home page