Attaching Clasps to Spiral Ropes
Spiral Rope 101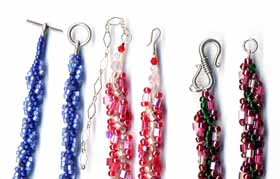 Attaching clasps to seed bead spiral ropes seems pretty straightforward, but there are a few things I've learned along the way that may help you whether you are new to this or have been doing it for a while.


Using Toggle Clasps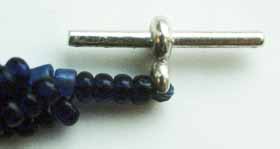 Attaching clasps of this type can be done very simply, with no findings needed other than the clasp itself. You can simply sew the loop half of the clasp to one end of your spiral rope. Sew through the clasp and back through the beads down to the first junction point with a row of outer beads. Sew through the outer beads back toward the clasp, then through the clasp again. Repeat this step as many times as you can before you run out of space in the beads, then weave the thread end back down toward the center of the necklace and tie the end into the beadwork.
For the toggle end, unless the loop portion of your clasp is quite large in comparison to the size of your beaded rope, you will need to add a skinny little extension onto the end of your spiral rope. I use a single row of beads for this purpose. In the photo you can see that the toggle can lie flat along the single row of beads so that it can be inserted into the loop.
Adding an Chain for Length Adjustment
In the photo at the top of this page you can see the red and pink necklace has a chain extension. This is a necklace I made for my mother, who loved having options about how to wear her jewelry. Personally, I usually find extender chains that bug me but lots of folks like them, and, especially for choker-length necklaces, it makes one necklace fit a variety of neck sizes.
In this necklace, I used three faceted beads to taper down from the chunky spiral of size 6 seedbeads and cube beads, and to give some room for fingers to easily get the hook into the chain to fasten the necklace.
Using an S-Clasp
I've been thinking about having more flexibility in the length of a necklace without having that chain tickling the back of my neck and came up with this solution. See the green/pink/red spiral in the top picture? I can lengthen this one by just linking on one or two more S-clasps when I want more length.
Each end of the necklace is sewn to the loop end of a small toggle clasp. Rio Grande sells the loops and toggles separate from each other and that is where I bought these. I have two nicely finished ends, and a lot of flexibility about what I do between them.
Two Lengths from One Set
When I made my mom a spiral rope necklace that included a couple of sterling silver beads that my sister had made, I made the necklace about 18 inches long, with a simple sterling toggle clasp. And I included a matching bracelet with a matching clasp. This allowed her to link the two together for a longer necklace or to wear the components individually.
Attaching Clasps That Are Smaller Than Your Spiral
Attaching clasps that are small requires that you leave enough room for fingers to get in there between the ends of your spiral rope.
If your rope is larger than the clasp, consider reducing the size of your necklace at the end. You could easily do this by making a single row of beads, as on the toggle end of a toggle-clasped necklace. You could also use the same methodology to string a short sequence of successively smaller beads, tapering from the end of the spiral down toward the clasp.
One of the most common complaints I got about my earlier spiral ropes was that the clasps were too hard to work, and it took me a while to realize that it was not so much the clasp that was at fault but that it was either just plain too small or there was just not enough finger space to operate it easily.
No Clasp at All
My favorite thing lately is finishing my longer spiral rope necklaces with no clasp at all, just making a continuous loop of the seed beaded spiral pattern. I especially love this in a chunky rope; it feels great to wear and I never have to fidget with the necklace to keep the clasp where it belongs.


Subscribe to Our Site Blog Free via Email

From Attaching Clasps (Spiral Rope 101) to Seed Bead University

From Attaching Clasps (Spiral Rope 101) to Home Page